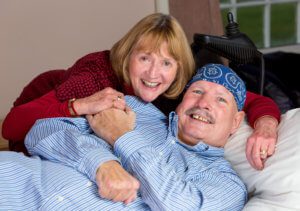 My previous property was on two floors, the bathroom was located upstairs, denying  access to normal bathing facilities. I was restricted to spending all of my time bedbound in the lounge.  Space was very restricted and this was compounded by the need for essential equipment; hospital bed, large hoist, industrial fan, trolley table and airflow mattress pump.  I was in clear view of visitors at all times, which obviously created privacy/dignity issues. In some instances, this deterred visits from family and friends.
Access at this property was a problem causing difficulties with transfers to ambulance.  This resulted in pain/discomfort to me.  A significant additional issue concerned my safety in the event of a fire.
Housing Options Scotland played a major role in dealing with my application to the Scottish Government's Lift Scheme.  During initial conversations, I was given positive direction regarding who to contact in respect of my particular housing issues.  OOIS support thereafter was continuous and specifically tailored to suit my needs.   Letters of support were required to back up my application and these were obtained from OOIS, my GP, OT, and Social Worker.  Letters requesting further support were also sent by myself to the First Minister of the Scottish Parliament and my constituency MSP.
Without support from OOIS, it is my belief that I would have remained one of the many unheard voices of the disabled regarding my special housing needs.  OOIS enabled me to find "the right house in the right place", otherwise I would have remained what I considered to be `a prisoner` at my old address.  I have no hesitation whatsoever in recommending OOIS to anyone experiencing similar difficulties re special housing needs.
Since moving to my new property, with the aid of a specially adapted wheelchair to meet my needs, I have now been able to go outdoors and enjoy the every-day pleasure of fresh air and change of scenery.  In addition, I can now access other rooms in the house and have the necessary privacy which other people take for granted, allowing more frequent visits from family and friends.
What Chris had to say:
"It is an accepted principle that all disabled people have a basic right under the rules of natural justice to have their voices heard.  With this in mind I sought help from Housing Options Scotland to find a more suitable property."
After initial contact with Housing Options Scotland, I was guided through the process of applying to Link Homes for funding to relocate within my existing area.  The whole team were extremely helpful and understanding throughout the whole experience.
Due to the severity of my disability (quadriplegic) and being bedfast, I require twenty four hour care. My medical team, carers and further support such as community dentist, social worker, occupational therapist etc. were already in place within my area, and have been for many years.  To move out-with this area would have been unjustifiable.
My old property was completely unsuitable as can be seen from the enclosed photographs.  I felt like a prisoner in my own home. I required a property with ground floor space for easier manoeuvring/use of specialist equipment and outside access.  Unable to adopt a sitting position, I have a specially designed wheelchair/bed which is longer and wider than a standard wheelchair.
Moving to the 'right property in the right place' would enable me to utilise the mini-bed and any future pieces of equipment adapted for me to their full potential.  This would be an immensely life-changing experience for me by enabling simple access to other ground floor areas within a suitable house and also, for the first time in over twelve years, be allowed some degree of outdoor mobility.
Since moving, my life has improved to such an extent that I truly feel born again.  Mobility issues have been addressed and I can now participate in most areas of normal family life.  The new house only required a modicum of disability adaptations ie bath, tracking hoist etc. which could never have been considered for the old property.
Furthermore, my wife now has an area upstairs which affords her privacy and relaxation away from my carers.